Retail Grid Panels In Virginia Beach VA
Shop Online & Pick Up!
Order your store fixtures and displays today.
Place Your Pre-Order Today!
Virginia Store Displays
Monday-Friday 8:00am-3:00pm
Place Your Order In Advance. Pick Up Warehouse Only (no showroom) Select Merchandise Available. Call With Questions 1-800-222-2702
Select "Pick Up" at Checkout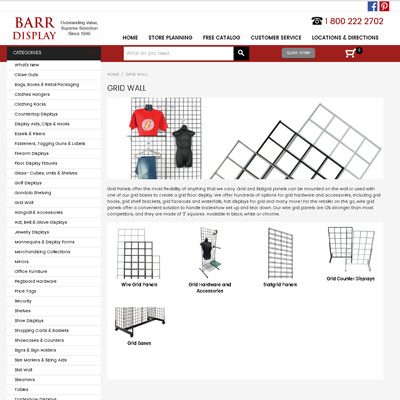 Barr Display stocks a wide selection of retail grid wall panels and grid wall accessories. Use grid in your retail store as a merchandising display or add to your stock or storage room for easy organization. Grid wall is one of the most versatile displays in the store fixture industry complete with bases for free-standing options, shelving, hooks and so much more. Shop Grid panels today and pick up at our Charleston warehouse to save on shipping costs.