Slat Wall In Nashville
Shop Online & Pick Up!
Order your store fixtures and displays today.
Place Your Pre-Order Today!
Store Fixtures Nashville - A Division Of Barr Display
Monday-Friday 9:00am-4:30pm
Place Your Order In Advance. Pick Up Warehouse Only (no showroom) Select Merchandise Available. Call With Questions 1-800-222-2702
Select "Pick Up" at Checkout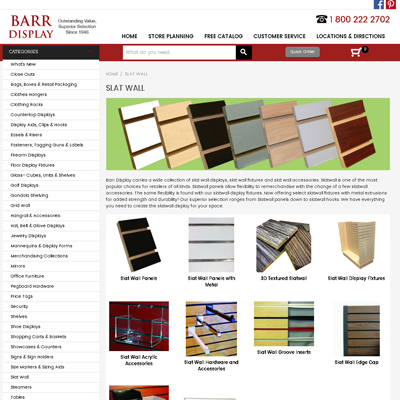 Barr Display carries a wide collection of slat wall displays, slat wall fixtures and slatwall accessories. Use the slatwall panels on your walls to add a mechandising space with visual interest and use matching slat wall floor fixtures to enhance your display floor. Pick up your slat wall at our Pittsburgh Warehouse and save on shipping costs. Slatwall panels are in stock. Shop now and save!